All blogs
6 Tips for Eco Friendly Direct Mail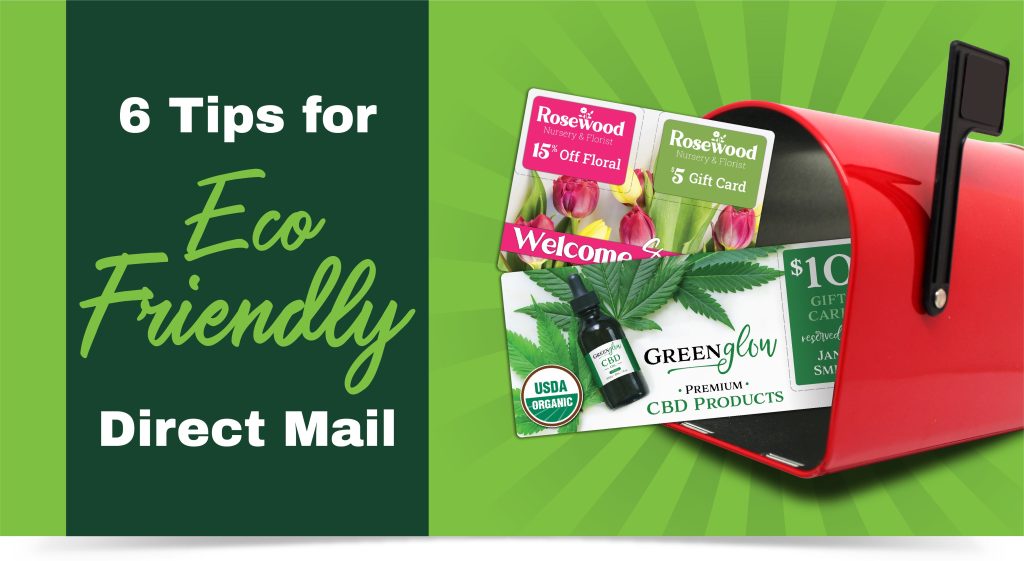 As many consumers are adjusting their purchasing habits to reduce their carbon footprint, it's important to factor these eco-conscious values into your marketing. While print has a reputation for being less sustainable compared to digital media, there are actually many ways to create a more eco friendly direct mail campaign! Here's 6 tips on how to make your next mailing more sustainable:
1. Choose your paper wisely
Responsibly sourced paper is the foundation of any eco friendly direct mail campaign. Ensuring your choice of paper is not only recyclable, but produced in a sustainable way, is one great way to reduce waste and minimize the carbon footprint of your mailing.
Consider recycled paper! Paper made from recycled post-consumer waste paper not only reduces waste, but reduces the need to harvest trees for new wood pulp for paper manufacturing.
Consider FSC®-certified paper! 'FSC®' refers to the Forest Stewardship Council®, a global, not-for-profit organization dedicated to the promotion of responsible forest management worldwide. To achieve FSC®-certification, paper and other forest products must be sourced from forest operations which meet strict guidelines, including monitoring the environmental impact of forest management. (To learn more about FSC®-certification, visit www.fsc.org)
Convertible Solutions offers several eco friendly paper options in our Elements™ line of papers, including FSC®-certified and 100% recycled paper options. Learn more about our Elements™ papers and request FREE samples!
2. Remind mail recipients to recycle
Consider including a reminder to your customers to recycle their mail! Not only does this help divert paper from the landfill, but it demonstrates that you as a business or brand have sustainability in mind. More and more consumers prefer to support environmentally friendly businesses—by showing that you value sustainability, you increase your credibility with these eco-conscious customers!
3. Use the right envelope…
Does your mailing include an envelope? Avoid envelopes with plastic windows to reduce plastic usage and ensure the envelope can be recycled.
4. …or skip the envelope entirely!
Your mailing might not need an envelope at all! Here are two ideas for cutting envelopes out of your traditional return mailing and reducing paper usage:
Try the all-in-one Fold 'N Go Return Mailer from Convertible Solutions. This unique self-mailer has a return envelope built-in, eliminating the hassle and waste of sourcing outer envelopes and maximizing the usable space of your mailer. Learn more and request FREE samples!
Send a postcard instead. Include a URL or QR code to direct recipients to your digital form or online fundraising platform rather than enclosing a printed form.
5. Refine your mailing list
Before launching any direct mail campaign, examine your mailing list:
Are you targeting the right customer demographic? Targeted mailing lists allow you to filter by categories like income, homeownership, and even more specific traits like pet ownership and birthdays. By refining your list to include your most likely customer profile, you make your direct mail more efficient and thus less wasteful!
Is your mailing information up to date? Be sure your mail is going to the correct addresses.
Are there duplicates? Remove any duplicate entries, and make sure you're not doubling up your mail on the same household.
Keeping your mailing list specific, up-to-date, and free of duplicates ensures you're using paper efficiently and reducing waste!
6. Measure your ROI
Are you actively measuring the success of your direct mail campaign? By calculating your ROI, you can further refine your direct mail campaigns and achieve better results with fewer mailers, thus using less paper! Here are some methods for tracking responses to your mailings and promotions:
Use personalized promo codes. When a customer uses their personalized promo code to make a purchase, you'll know exactly who is responding to your direct mail.
Use pURLs ('personalized URLs'—for example, 'www.myproduct.com/jane-doe'). Like personalized promo codes, these URLs can be customized for each individual recipient, allowing you to tell who is interested in your offer once they visit the webpage associated with their pURL.
Eco friendly direct mail is good for business
Direct mail continues to yield high response rates and ROI, with new technologies and multichannel integration increasing its effectiveness. However, the environmental concerns of consumers must be considered when planning a direct mail campaign. By responsibly sourcing your paper, refining your campaign and more, you can leverage the benefits of direct mail while appealing to environmental values.
Convertible Solutions has eco friendly paper options and other unique substrates to drive your next direct mail project. Contact us for FREE samples of our Elements™ line of papers and more!