Product Description
Now 200 sheets/carton!
Fold N' Go Impact Cards get noticed! Twice the thickness of a typical "thick" postcard, they catch the eye and the fingers of your prospects and dramatically increase response rates.
24 point Impact cards were designed to run through standard digital presses.   Perfect for short run and variable data jobs!
Each 12×18 ½ inch (305mm x 470mm) press sheet is 12 points thick with cohesives on the back and a perf down the center. You print both sides of your postcard on the front of the sheet. When folded at the perf, the front and back of the postcard seal together to create an impressive 24 pt card. The sheet prints easily in most digital presses and can be folded with a typical bindery folder.     This is also available in and uncoated item (#1257) a sheet without a perf. (Item #1250 listed with the MultiLoft sheets)
The Impact Card stock can also be trimmed to virtually any finished size.
We have customers using it for 12-up business cards,   4-up postcards at 4.125 x 5.5 inches (105mm x 140mm), 2-up cards at 5.75 x 8 inches (146mm x 203mm) or one very impressive card at 8.5 x 11 inches (216mm x 279mm).   The U.S. template below illustrates the most popular options.
After printing, the sheets can be UV coated to add gloss and protection, or you can add a thin lamination layer to make the card even thicker.
Use Impact Cards to get big results!
**View pricing in cart or call 866-832-0217 with questions.
**All Convertible Solutions Fold N' Go mailers require 300psi to seal properly.   Relying on your folding equipment to seal Fold N' Go mailers will result in the pieces coming open during mailing.  These mailers MUST be trimmed AFTER folding at a minimum of 300psi to ensure proper sealing.
 online prices include 1% prepay discount.
Sample Use – 4-Up Graphic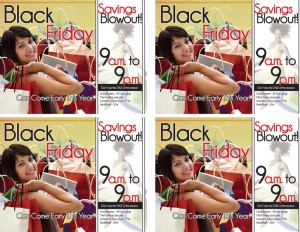 Template U.S.