Product Description
The best lay-flat booklet solution on the market!
Designed for photographers, architects, creative professionals, and those that want to deliver an exquisite visual impact
– Designed to run on digital presses
– The pages lay perfectly flat when the book is finished and deliver stunning digital photo reproduction without the traditional gutter running down the middle of the page.
– Crossovers are gone and color always matches across a spread!
– Build books for important presentations, proposals and studio portfolios
– Ideal for creating photo books with photos that flow seamlessly across the fold, making each spread a visual feast.
– Artists, art galleries, museums, high-end product catalog designers will love the ability to layout their pages without concern for images getting lost in the gutter.
– Digital printers can produce high-value, high-impact books using simple bindery techniques.
– You'll be able to showcase photo-rich projects from cookbooks to calendars to corporate collateral.
Create finished books in the following sizes: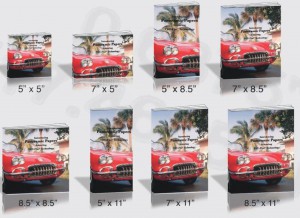 **View pricing in cart or call 866-832-0217 with questions.
online prices include 1% prepay discount.
Template  U.S.