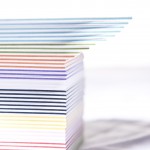 MultiLoft® sheets allow the creation of stationery quality cards on the HP Indigo and other digital presses, and with the MultiLoft® Inserts, layering to reach up to 64 point finished cards is possible.
After printing in a standard digital press, the front and back sheets are assembled back to back. The pressure from the trimming clamp seals the sheets together into an impressive, elegant card.  After assembly, the sheets can also be die-cut into specialty shaped cards.
MultiLoft – thick substrate products for your digital printing equipment.  More than elegant business cards, holiday cards, ornaments, announcements…   Imagine the magic your team can create.
With TRU-Flat® Technology
Designed for photographers, architects, creative professionals, and those that want to deliver an exquisite visual impact Designed to run on digital presses. The pages lay perfectly flat when the book is finished and deliver stunning digital photo reproduction without the traditional gutter running down the middle of the page.