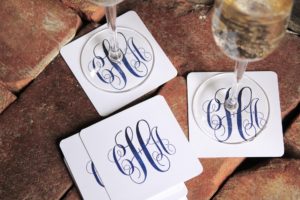 CatPrint in Rochester, NY showcases MultiLoft® Accent Opaque Sheets on elegant monogrammed coasters.
CatPrint had been wanting to offer coasters for a long time, but with the constraints of digital printing were unable to print anything sturdy enough until they found Convertible Solutions MultiLoft papers.  These coasters were created in house for samples that they take to bridal shows to inspire excitement in brides as they prepare to take their future husband's name.  They also use this stock any time that a job needs some "extra muscle"!
CatPrint lives up their name!  They are very active in the local animal rescue community, and they get to work with cats that they foster right in their office!  Part of their support of this community is CatPrint Cares.  This gives customers 10% off any order when they donate to their featured animal rescue group.  What a PURRRR-FECT opportunity to give back!
Check out CatPrint!