All blogs
3 Benefits of Direct Mail in 2021 and Beyond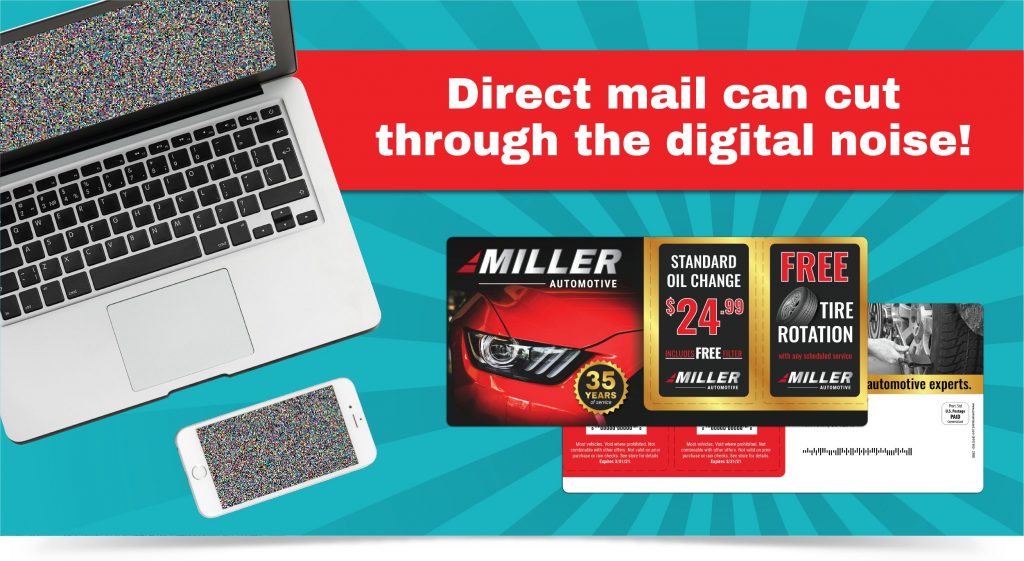 Shifts in our relationships with online spaces and advertising brought on by the pandemic have actually boosted the relevance of direct mail in 2021 and beyond! Here are three reasons why you should consider including direct mail in your upcoming marketing efforts:
1. Digital fatigue and oversaturation is pervasive.
Over the past year, people have been camped out on their screens, whether teleconferencing through Zoom or binge watching TV. Many are seeking experiences beyond the screen, and this fatigue combined with digital ad oversaturation results in promo emails left unopened and pre-video ads skipped. Direct mail marketing can cut through the noise and serve as a physical touchpoint for your brand. A postcard is much harder to overlook than an email! This leads into the next benefit of direct mail:
2. Direct mail has the greatest shelf-life of any marketing medium.
A Go Inspire Group study indicated that direct mail sticks around an average of 17 days. A longer lifespan means more opportunities for a customer to commit to a purchase. Compared to the usual shelf life of just tens of seconds for emails, direct mail clearly has superior staying power! This ability for postcards and catalogs to linger in the home is even more valuable when you consider:
3. Most major purchase decisions are made at home.
A PebblePost direct mail study in 2019 determined that 88% of major purchase decisions are made at home. In fact, higher dollar purchases like home improvement services, auto services, and retail-related purchases are almost always done or discussed in the home. Even as the world stabilizes from the COVID-19 pandemic, fundamental shifts in remote working are expected. By the end of 2021, at least 26.7% of the workforce will be fully remote. This trend is expected to continue over the coming years. With more people working from home and eager to escape from their screens by day's end, direct mail has greater potential to attract attention. With physical advertisements sticking around on refrigerators, desks, and kitchen counters, exposure to your product or promotion is increased.
Convertible Solutions offers a variety of unique substrates and direct mail products for your next print marketing push. Contact us today for FREE samples!