All blogs
4 Reasons To Use Direct Mail in 2022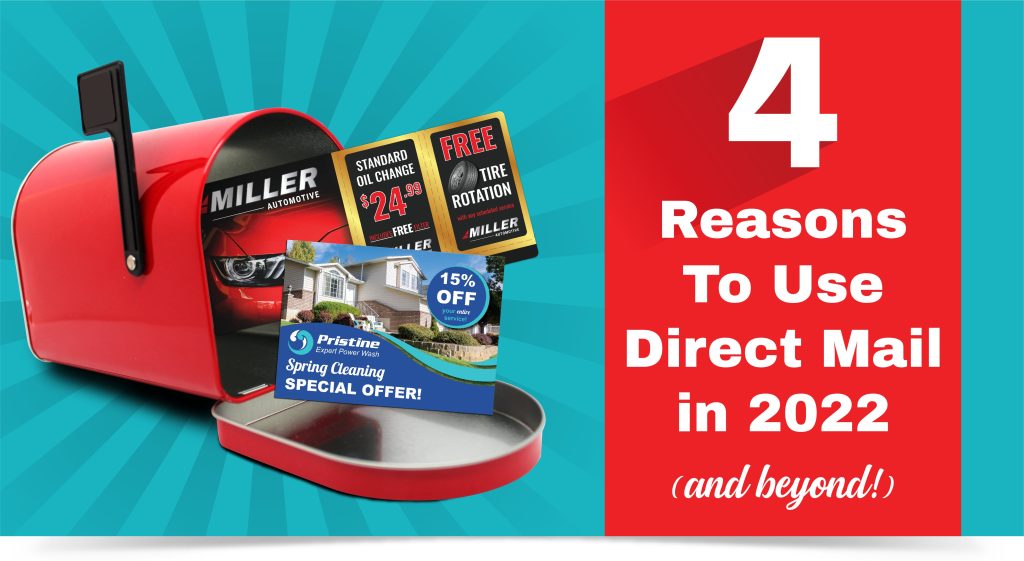 Direct mail saw increased relevance in 2021, and this is projected to continue through 2022! Here are 4 reasons to use direct mail in 2022:
1. Digital fatigue persists

According to a 2021 direct mail study conducted by SG360°, a whopping 75% of consumers report feeling overwhelmed by the number of digital ads.
Since the global pandemic began in 2020, digital marketing exploded, hoping to capitalize on increased online and electronic device engagement by consumers. However, this jump in digital marketing has resulted in oversaturation, with ads, emails, and videos becoming so much electronic noise.
Consumers are exhausted by the volume of digital ads, so the physicality of a postcard could be the antidote to this growing apathy for digital marketing!
2. Increase in remote work expected to continue

The pandemic also forced many employees to work from home, and while at first this was seen as temporary, increases in productivity and lower operating costs are contributing to a rising trend in remote and hybrid work models.
One of the greatest benefits of direct mail is its tendency to hang around in the home. In fact, A Go Inspire Group study indicated that direct mail sticks around an average of 17 days. A longer lifespan in the home combined with a growing percentage of people working from home (and probably eager to shut off their screens at the end of their work day) means direct mail is more likely to be seen.
3. Direct mail is favored and trusted by most consumers

72% of respondents in the SG360° survey reported feeling positively about direct mail. These people indicated that the main reason they like direct mail is that it usually includes a good deal on a given product or service.
When asked what could improve their disposition towards direct mail, recipients indicated two main factors:
Whether the direct mail contains personally relevant information
Whether the direct mail includes a good deal on a product or service
The favorability towards direct mail is encouraging, but personalization and relevance are increasingly important to make direct mail truly effective. Consider factors like timing of the mailing and ensuring that your product or message is relevant to the recipient. With targeted mailing lists becoming increasingly refined and specific, this type of laser-focused direct mail is achievable!
Print advertising is also considered one of the most trustworthy advertising mediums by consumers, beating out email, sponsored posts, and other digital advertising types. With digital ads becoming the new junk mail over the last two years, this trust in print advertising is likely to hold, or even increase.
4. Younger people feel more positively about direct mail

One would expect younger generations raised on digital media to look down on direct mail, but the 2021 direct mail study by SG360° suggests otherwise! 77% of Gen Z and Millennials and 71% of Gen X participants surveyed reported feeling positively about direct mail, compared to 55% of Baby Boomers. Younger generations were also more likely to take an action in response to direct mail, such as visiting a website or following a brand on social media.
Melanie De Caprio, VP of Marketing at SG360°, theorizes that this surprising trend is because Boomers lost interest in direct mail due to the untargeted and less relevant mass mailings of the past.
Thus, as discussed, relevancy is truly key. Useful information or good deals tailored to customers increases positive responses to direct mail and ROI. Precise targeting, personalization, and other direct mail technologies will continue to enhance the impact of direct mail.
Summary
In short, digital advertising has become oversaturated lately, leaving an opportunity for physical direct mail to cut through the noise. More people working remotely means more opportunities for direct mail messaging to be seen and considered—and with customers feeling mainly positive towards direct mail, including a surprisingly higher proportion of younger people, direct mail will remain an effective marketing tool in 2022 and beyond.
Planning your next direct mail campaign? Convertible Solutions has unique substrates and products to help your mailing campaign stand out in the mailbox. Learn more about direct mail applications for MultiLoft® and Fold 'N Go® products and request FREE samples today!