All blogs
Aim High!
Segment by levels of customer engagement, then target your most loyal customers.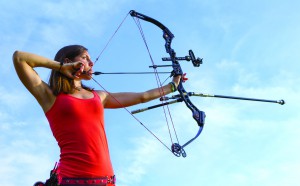 When we think about segmenting a direct mail, email, or other type of direct marketing campaign, we typically think about targeting and personalizing messages based on demographics, psychographics, or purchase patterns. But what about a customer's level of engagement? Customer engagement is a critical factor in your targeting efforts.
Whether in direct mail, newsletters, email, or other channels, you will speak differently to someone with a high level of emotional attachment to your brand than to someone who is only marginally attached or who is just exploring your brand for the first time. A customer's level of engagement will affect the messaging, choice of response incentives, and images you choose.
Knowing your most engaged customers can also earn you more money. According to The Gallup Organization, customers who are fully engaged result in 23% higher share of wallet, profitability, revenue, and relationship growth over the average customer.1 By placing more effort onto highly engaged customers, you can get more value from your marketing dollars.
How can you tell your most engaged customers?
Look at the data.
If you are tracking purchases, your most engaged customers are your repeat customers too.
Who is buying from you most frequently?
Who made the most recent purchases?
Who spends the most money? Not only will identifying your most profitable customers help you with segmentation, but it will help you decide what variables to use if and when you purchase a new list.
Ask "customer engagement" questions
If you want to know how engaged your customers are, just ask them! According to research conducted by Cvent, customers who are highly engaged also exhibit a high level of trust and feel a personal connection with the company. Use tools such as paper surveys, personalized URL surveys, and web forms to ask "agreement" questions like:
I am a committed company customer.
I feel a sense of loyalty toward the company.
Company is my favorite provider.
Company is responsive to my needs.
Company will do anything to make me happy.
These and similar questions will measure their sense of personal relationship (and therefore level of engagement) with your company.
If possible, overlap these two measures.
Tie in the patterns you find in terms of purchases with the levels of engagement uncovered in your surveys. Now you have a "best of the best" list of the customers you can really count on.