All blogs
Attract More Customers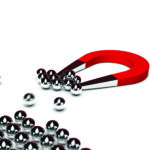 Direct mail plays a major role in all areas of the customer lifecycle, but is most important to the acquisition stage," says David McRae, managing director of data and technology services for Yes Lifecycle Marketing, speaking to Direct Marketing News. "In fact, direct mail results in higher rates of acquisition than any other channel." Many direct marketers can attest to the truth of these words. What makes direct mail so powerful?
1. It is the only channel that can reach everyone in your database.
Let's face it. Most customers don't want text messages from marketers, and even the best email lists only reach 40–50% of your list. Social media only reaches certain audiences, and mass marketing is increasingly easy to tune out.
2. Print lists are the most stable.
People change email addresses frequently, whether through preference or job change. By contrast, people may live at the same address for years, if not decades.
Singles move more often than families, but physical addresses are still more stable than email.
3. Highly reliable personalization.
Data used to personalize by demographic and psychographic can be readily cross-checked and validated. When purchasing or appending a direct mail list, you can have a high level of certainty about its accuracy. This results in more precise and effective targeting.
4. Mailboxes are less crowded than they used to be.
It is not unusual for the average person to receive hundreds of emails in a single day. Even with an up-to-date email list, the best, most personalized email may still never be seen. By contrast, traditional mailboxes are much less full than they used to be. Well-designed mail pieces, especially when personalized, jump out and command attention.
5. Direct mail remains the most visually compelling medium.
HTML email utilizes many of the benefits of graphics and personalization, but direct mail offers a level of tangibility and visual appeal not available in any other channel, including email. People respond to the richness of color, the depth of imagery, and dimensional techniques such as coatings, dynamic folds, and eye catching die-cuts. It adds tangibility and credibility.
Studies consistently find that consumers prefer print for receiving promotional materials. According to a U.S. Consumer behavior survey conducted by Synqera, 75% of consumers prefer to get promotional content and coupons from traditional print media rather than online channels.
If you want an effective customer list, you have to acquire those customers in the first place. Even in this age of digital marketing, direct mail remains the most predictable, effective way to reach the widest number of consumers.