All blogs
Combining Mobile with Print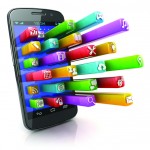 Do you have a mobile strategy as part of your marketing plan? If not, maybe it's time you did. We all know how important email and a Web presence are to customer marketing. Now, according to research by Prosper Mobile Insights, more and more consumers are conducting these activities exclusively on their mobile phones.
For example, more than half of mobile users say they access email only on their mobile phones. Forty-five percent do Internet searches only on their mobile phones. Forty-two percent access Facebook this way.
Think about it—consumers are scrapping their laptops and desktops in favor of their mobile devices.
As a marketer, this has powerful implications. As consumers transition their everyday activities to the mobile world, you need to have a strategy for reaching them at that level. You need to go where your customers go.
It's time to start incorporating mobile marketing into your print marketing mix. This doesn't need to be complex or overwhelming. Here are a few simple, easy steps to get you started.
QR Codes:
Add QR codes to your direct mail pieces, your invoices, and your envelopes. Leave the phone numbers, the URLs, and the tear-out forms. Just add QR Codes as an optional way to respond.
Short Codes:
Start using short codes for promotions. For example, "Text 'SUPERDEAL' to 0550 and receive your free coupon!" This not only gives your customer a way to respond to the promotion immediately, but it gives you their mobile phone number for future marketing contacts.
Text Alerts:
Offer to send text alerts as a customer service. Restaurants offer to text patrons when their tables are ready. Doctor's offices offer to text appointment reminders to their patients one day ahead of time. Walmart uses text messaging very effectively to alert customers when their photo lab orders are ready for pick-up.
Mobile Landing Pages:
Create a mobile website for your business. Template-based software makes this easy. If you're not ready to launch a full mobile site, you can still begin to create mobile-friendly landing pages for specific promotions. Especially when using QR codes, be sure that you are sending people to a mobile optimized page.
When you think "mobile," you don't necessarily have to think about mobile payments  yet. It doesn't have to be about selling products. The first step is simply getting customers engaged with you on a mobile basis.
Then imagine where that relationship can go over time!