All blogs
Convertible Solutions Creates Reveal Card for Personalized Photo Postcards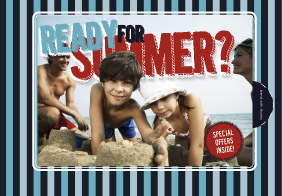 Convertible Solutions has added a Double Thick Reveal Card to their line of specialty paper stocks for digital printers and photo imaging centers. The Reveal Card has a removable front panel which is a fun and interactive way to engage customers or reveal graduation announcements, baby pictures, contest winners, or any other static or variable text or image. At twice the thickness of a typical "thick" postcard, the Double Thick Reveal Card will catch the eye and the fingers of the recipient and dramatically increase response rates on direct mail.
"This is a perfect offering for photo retailers," explains David Williams, Convertible's Director of Business Development. "It's great for announcing special occasions, but it can also drive impulse purchases. Anyone who receives one of these from a friend or family member is certain to put it on their refrigerator for weeks or months."
Convertible Solutions designed the Double Thick Reveal Cards to run through standard digital presses. Each press sheet is 12 points thick with cohesives on the back and a score down the center. The graphics for both the front and back of the postcard are printed on the front of the press sheet while the inside content is printed on the opposite side. When folded at the score, the front and back of the postcard seal together to create an impressive 24 pt card. The sheet is designed to print easily in most digital presses and can be folded with a typical bindery folder.
The Double Thick Reveal Card is pre-die cut with a removable front to conceal the hidden content. Each sheet produces 2 cards at 5.5 x 8.5 inches each. After printing, the sheets can be UV coated to add gloss and protection.