All blogs
Direct Mail Design for a Digital Future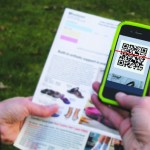 In a world dominated by electronic media, how can direct mail create a big bang for your buck?
Convertible Solutions interviewed Patrick Fultz, founder and chief creative officer of the DM Creative Group (Suffern, N.Y.) and president of the Caples Awards, an international design competition. We liked Fultz's ideas so much that we applied them to the world of 1:1 marketing.
1. Stop them in their tracks.
Before people will read a personalized message, you've got to get them to stop long enough to take a look. Think of the outer envelope as a storefront. With email, you've only got a subject line. With print, the possibilities are endless. Try different colored stocks. Experiment with different plastic substrates or textures. One marketer was highly effective with a see-through red envelope with white knock-out copy. Try a new printing technique. Use great illustration and photography. Quirky headlines. Eye-catching offers. Make people look twice.
2. Take advantage of new formats.
These days you can do a lot more than just send a postcard or stick a letter in an envelope. Try different types of folds. Unusual die cuts. Add eye-catching labels or stickers. One financial mailer was highly successful using what Direct Marketing IQ has called "the efficient envelope," or a fold-open mailer with a wafer seal. When the reader breaks the seal, the mailer unfolds into two panels packed with information. Or try pop-ups or accordion folds.
3. Get recipients to interact with the piece.
What can you do to get recipients to interact with your mail piece in some way? This is the idea behind asking consumers to detach stickers and apply them to reply envelopes or gift cards. Any interaction with the mailer increases response. QR codes and personalized URLs are other great ways to get people to interact with the piece.
4. Easy to read = good response.
Make the mailer easy to read and easy to respond to. Are you using good typography? A nice mix of images and clever copy? How about the copy itself? Is it easy to read? Can you use numbers or charts to tell your story in "bites" instead of words? How about the offer? Does it stand out so the reader can see it easily? Are there multiple ways to respond? A reply card prefilled with a recipient's contact information is another great way to use personalization. By prefilling the reply card, this removes a barrier to response by making it faster and easier to respond to the offer.
People love direct mail, but they like things to be easy too. Fultz points out that nobody will work hard to hear your message. The message has to do all the work. It has to grab attention and stand out. It also has to be easy to respond to. To know if your message is working, Fultz suggests the following rule of thumb: "If you were receiving this piece, how hard would you work to respond to it?"