All blogs
Great Marketing to Green Marketing

Now you can make an informed decision when choosing paper!
Did you know that paper is going green? Actually, paper has been green for some time, but paper manufacturers are making it even more so. Let's look at some trends in paper manufacturing that will please Mother Earth.
Paper mills use renewable energy.

Did you know that much of the energy consumed in paper manufacturing comes from renewable energy sources? The primary sources are biomass (from treetops, limbs, bark and other by-products from paper manufacturing) and water. For some mills, as much as two-thirds of the energy used in their paper production can come from renewable sources.
Paper mills are going carbon-neutral.
Non-integrated mills may not be able to produce their own energy, but an increasing number of mills purchase carbon credits instead. There are a growing number of paper companies now claiming to be entirely carbon-neutral.
More 100% postconsumer paper.

There are a growing number of recycled papers using 100% postconsumer (PCW) fiber .In the past, this meant significantly higher prices, but as the volumes have grown, the prices of 100% PCW papers have come much closer in line with those of other recycled papers.
More environmental certifications.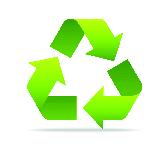 You would be hard pressed to find a paper mill not offering environmentally certified papers these days. With environmental certification, the entire paper manufacturing process, from selecting and harvesting trees to the production of the paper, is strictly monitored and documented so you can be sure that it is being conducted with the highest levels of environmental integrity.
As the paper industry continues to deepen its environmental commitment, it is becoming easier to take your print marketing green these days. Combine that with best-in-class database practices such as keeping your mailing list clean, de-duped, and up to date, and you've got a powerful recipe for environmentally friendly print marketing!