All blogs
Hit Your Target with Direct Mail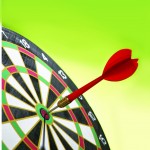 Direct mail tops e-media for response rates, while email support increases success.
It's official . . . again. Direct mail delivers better response rates than electronic media. This is according to the 2012 Response Rate Report from the Direct Marketing Association (DMA).
The DMA's annual report looks at response rates from a variety of media, including traditional direct mail, oversized mail, postcards, and catalogs. The report compares these forms of print marketing to electronic media like email, display ads, and paid search. The results? Direct mail out-performs its electronic counterparts by a wide margin.
The DMA report found that, on average, direct mail using an in-house list received a response rate of 3.4%, while direct mail using a prospect list averaged 1.3%. If you want even better response rates, the DMA found, oversize it! Oversized mail using house lists averaged a 4.0% response rate. Using prospect lists, oversized mail averaged 1.4%.
How does direct mail fare in comparison to its electronic counterparts? Extremely well. On average, email received a .12% response rate for in-house lists and .03% for prospect lists. Display ads and paid search didn't do much better— .4% and .22% response rates, respectively. All the talk these days is about e-media. Certainly electronic alternatives are seen as less expensive. But if your goal is to boost your response rates, then less expensive isn't the way to go.
Here at Convertible Solutions we're big fans of personalization too. The data back that up. Studies conducted by the Rochester Institute of Technology, for example, have found that personalization alone can boost response rates by 44% over static communications, while personalization plus color can take response rates up 135%.
But wait — it gets better! Multiplying media amplifies your results even more. Here is where email can be a great benefit. Don't ditch email. Use it as a teaser before you send your direct mail piece. Or use it as a follow-up if people haven't responded. Email can be a great way to support your direct mail efforts and make them even more effective.