All blogs
LOFT Personalized Stationery Nominated for Best New Product at National Stationery Show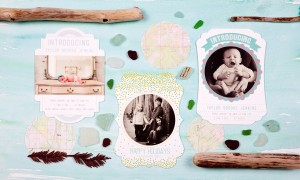 The LOFT line of personalized stationery from Black River Imaging has been selected as a finalist for Best New Product in the Paper Love category at the National Stationery Show being held in New York this month. LOFT cards are made from a luxuriously textured 51 point stock and printed on digital offset presses optimized for personalized and short run projects.
Black River Imaging makes ultra-thick LOFT cards from Convertible Solution's MultiLoft paper stock. The stock has been combined in 34, 51 and 68 point thicknesses to make flat greeting cards, specialty shaped cards and ornaments, business cards, coasters, placemats and fans for special events.
Black River Imaging is exhibiting at the National Stationery Show for the first time this year. The company, which will be in booth 2888, provides personalized and short run printing and fulfillment services for professional photographers, web retailers, and specialty stationery brands. The show is being held in the Javits Center in New York City May 19th to 22nd.
"Black River Imaging is known as a professional portrait lab", explains David Williams, General Manager of the company. "But more and more web retailers and card companies have discovered that the printing, finishing and drop shipping services we provide to photographers are also perfect for personalized stationery fulfillment. Our presence at the National Stationery Show should make it easier for those types of companies to find us."
Black River Imaging helps photographers, designers and anyone who loves beautiful printing bring their creativity to life in hand made photo albums, professional photo printing, press printed greeting cards, gallery wraps, metal prints, and other beautifully crafted personalized products. You can learn more about their products and services at http://www.blackriverimaging.com.