All blogs
Magnetic Business Cards with MultiLoft®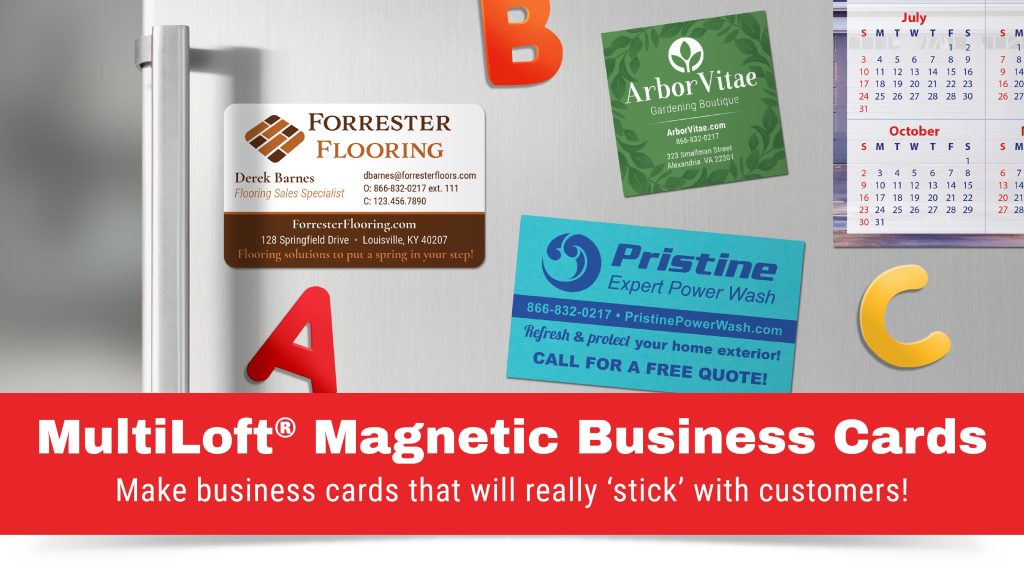 Business cards are an essential piece of print collateral for any business. With so many business cards constantly changing hands, it's important to have a business card that sticks out. What better way to "stick" with customers than with magnetic business cards?
Magnets are an excellent long-term promotional item. They're inexpensive, useful to customers, and often stay in plain view on a recipient's refrigerator for years. A study by Appliances Direct indicated that survey respondents open their refrigerator roughly 14 times per day—that's a lot of potential daily impressions for a promotional magnet!
MultiLoft® Elite Magnet Sheets from Convertible Solutions make it easy to create thick, short run magnetic business cards on a digital press. Combine any MultiLoft® Sheet with a Magnet Sheet, and even add one or more inserts to create a magnet up to 64pt thick!
Since MultiLoft® Sheets are already coated with a dry, pressure-activated cohesive, they can be printed on immediately. Say goodbye to the tedious lamination process often associated with custom magnets–in fact, no specialized equipment is required to make MultiLoft® magnetic business cards! It's as easy as A, B, C:
A: Print the design onto the MultiLoft® Sheets.
B: Collate the printed sheets with the MultiLoft® Elite Magnet Sheets, ensuring the cohesive sides are touching. Add inserts between them to increase thickness if desired.
C: Use the pressure of your own in-house trimmer (300psi) to bond the MultiLoft® cohesive, and trim or die-cut your finished, custom magnet!

MultiLoft® Sheets also come in substrates typically not available for magnets, including soft touch, kraft paper, and more! Additionally, as all MultiLoft® products are tailored for digital presses, it's easy to integrate variable data for greater personalization like names or design variations.
Interested in samples of MultiLoft® Magnets? Request FREE samples!
New to MultiLoft®? Learn more about how our proprietary MultiLoft® technology works!