All blogs
Mobile: Changing the Way Consumers Buy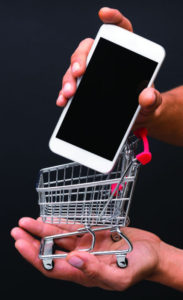 Consumers are changing the way they make purchases, and mobile is one of the driving factors. For this reason, print-to-mobile technologies are becoming more important than ever. Although QR Codes are not the only way to drive print to mobile, consumer behavior and adoption of these codes paints a powerful picture of how mobile lifestyles are changing the way people interact with brands.
But it's not just in the retail store. We see mobile codes changing consumer interaction with direct mail, catalogs, magazine advertisements, and beverage labels. We see mobile codes on the doors of rental cars, fruit at the grocery store, and on exercise equipment at the gym.
Every time you turn around, there is a QR or other code in a new location.
Why are consumers interacting with these codes? Primarily to gain quick access to additional product information and download coupons. They might be looking for testimonials, recipes, consumer reviews, or games. In a catalog, they might be looking to access a sizing chart for the garment they are interested in. Stores like Best Buy and Lowe's have made QR Codes on product tags or shelf talkers part of every store's shopping experience.
Adoption will continue to grow.
Scanbuy, which processes more than 20% of all mobile barcode scans around the world, continues see growth in the number of scans per person. In 2014, the company's internal data showed 4.0 scans per person. In 2015, this rose to 4.6, which is growth of 15%. The market verticals seeing the most scans? Technology and gadgets, food and drink, fashion, health and beauty, lifestyle and home, and dining.
Whether you're producing a direct mail campaign, catalog, or in-store signage and display, print-to-mobile technologies are a critical part of the mix. It's all about immediate gratification and spontaneity.
When it comes to spontaneous shopping, print-to-mobile helps make the purchase decision easy.
Scanbuy Consumer Behavior and Preferences Report 2014