All blogs
Playing to Win!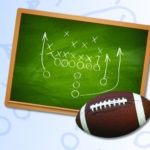 Think multichannel marketing is still an option? Not anymore. We live in a world in which 94% of consumers have their cellphones within arm's reach, and 65% of email is now opened on a mobile phone. People trust online reviews as much as personal recommendations, and according to Forbes, 78% of consumers say that the posts made by companies on social media influence their purchases.
From print marketing to mobile, we live in an interconnected world. Different channels resonate with different audiences in different ways. Like a great football coach, smart marketers know their players and when to put each into the game—in this case, the sales funnel.
Your Playing Field: The Sales Funnel
We can think of the sales funnel as having three primary stages: Greeter (creating brand awareness), Influencer (generating interest), Closer (getting the sale). In Experian's 2014 Digital Marketer: Benchmark and Trend Report, marketers were asked which channels were most important in each of these stages. Here are the answers they gave:
Top channels for creating brand awareness:
Search marketing: 43%
Online display ads: 42%
Social display ads: 40%
Social media (not paid): 38%
Print advertising: 37%
Top channels for generating interest:
Email marketing: 49%
Social media (not paid): 44%
Online display ads: 35%
Print advertising: 33%
Social display ads: 33%
Top channels for getting the sale:
Website (e-commerce): 42%
Email marketing: 30%
Direct mail: 20%
Mobile apps: 20%
Search marketing: 17%
Understanding the role of each channel in these three stages of the sales funnel is part of knowing when and where to send your players out onto the field. Half of global cross-channel marketers surveyed also planned to integrate four or more channels in their campaigns in 2014.
Note that more than one-third of respondents see print advertising as a critical channel for creating brand awareness and gaining influence. While we might expect an e-commerce website to be tops for converting to sales, direct mail was the second most important channel for doing so.
Take it from the great sports coaches of history. Know your players, their unique talents and skills, and how they can work together to make game-changing plays.