All blogs
QR Code Menus: Pros, Cons & Tips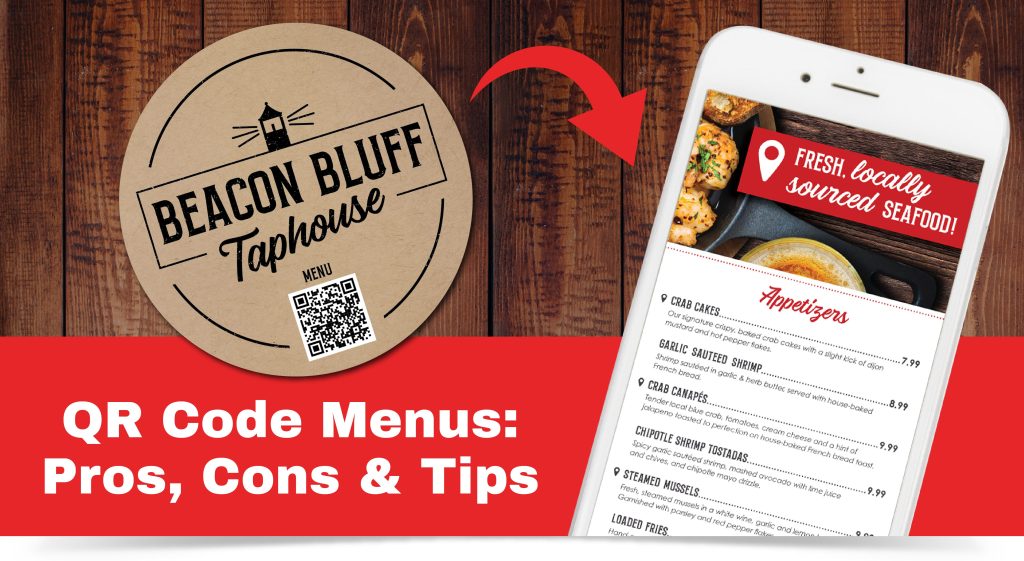 The mass adoption of smartphones over the past decade has brought QR codes into the mainstream. These compact, square barcodes allow smartphone users to quickly access webpages, PDF documents, and other digital content. While QR code menus were already trickling into the restaurant industry, the COVID-19 pandemic prompted more widespread use to promote cleanliness and social distancing between guests and staff. However, incorporating QR codes into your restaurant requires careful thought to ensure a positive guest experience.
If you're considering incorporating a QR code menu into your restaurant, here are some pros, cons, and tips to consider:
Pros
QR code menus are more sanitary than reusable menus. Particularly since the pandemic, cleanliness is a major concern for many restaurant guests and workers. The hands-free nature of a QR code can help prevent the spread of germs.
Saves on printing costs. Unlike a physical menu, digital menus do not need reprinted and replaced when damaged, outdated, etc.
Menus can be more dynamic. A digital menu can be updated almost instantaneously, rather than printing and distributing new menus, allowing more flexibility in a restaurant's offerings.
More eco-friendly than disposable menus. If your menu is disposable, or prone to changing often, a QR code menu can reduce paper waste.
Keeps the menu easily accessible throughout meals without cluttering the table.
Cons
QR codes require a smartphone to use. Despite their popularity, not every restaurant guest has a smartphone. In fact, 40% of people over 65 do not own one, and there are also financial barriers to owning smartphones.
They require a stable internet connection For areas without Wi-Fi, or with otherwise limited connectivity, loading a digital menu may be slow and difficult. Busy periods in a restaurant can exacerbate connectivity problems if many people are attempting to use the QR code.
Older or less technologically-inclined guests may experience difficulty. Not everyone knows what a QR code is and how to use one, or is comfortable navigating a digital interface.
Viewable layouts are only as large as the device screen. On a smartphone screen, it's harder to quickly reference and compare multiple menu items, or jump from section to section.
May require additional investment into a user-friendly digital interface and technical support. QR code menus may reduce printing costs, but there is a trade-off. A user-friendly digital interface for your menu, especially if it is web and not document-based, may involve additional expenses in web development. 24/7 IT-support may be necessary in case of website issues or broken links.
Involving smartphones can be disruptive to the dining experience. Mealtime, especially when dining out, is a time for face-to-face communication. If smartphones are immediately required just to access the menu, it can negatively impact the social experience by introducing digital distractions.
Tips for implementing a QR code menu
QR code menus have their pros and cons. If you do choose to incorporate a QR code menu, here are some thoughts to keep in mind:
Make sure your menu is mobile friendly! Whether you create a PDF document version of the menu, or code it into your website, carry out testing and make sure your menu is easy to read & navigate on a smartphone screen. As a guest, zooming and scrolling through a document or page that isn't mobile-friendly is frustrating.
QR codes still need to be printed out, so invest in a quality printed piece that matches your brand. Printed coasters are a popular option, as they work both as a menu access point and a functional drink coaster. To promote eco-friendliness, consider printing with recycled or FSC®-certified papers.
Since QR code menus don't work for everyone, make sure to keep a stock of printed menus available! Even if these menus are on hand 'just in case', make them high-quality and on-brand. On top of feeling alienated by a digital menu, customers may feel awkward leafing through a cheaply made, generic-looking version of the menu.
Consider combining printed menus and QR code menus. As discussed, there are many benefits to sticking with a printed dinner menu, but drink menus are often separate and more subject to change, so they may work better as a QR code-based menu. Or, consider using an additional QR code menu to highlight a revolving selection of daily specials and special promotions! Print and digital mediums can work together seamlessly to improve the dining experience.
Convertible Solutions offers a selection of unique, high-quality substrates and products for your printed collateral needs! Contact us to request FREE samples of staple-free TRU-Flat® Panoramic menus, MultiLoft®, and more!