All blogs
Refresh Your Brand and Revitalize Your Business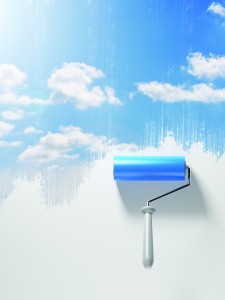 Your company's visual brand identity is a shorthand to who you are and the promises you make to your customers and stakeholders. It's a reflection of what your company stands for and what sets you apart. When your brand has been around for a while, however, you may no longer be getting the results you need. This happens regardless of size or industry and may be brought on by aggressive competition, changes in the industry, or the consumer's perception that since your brand looks dated your offerings must be dated too.
One option is to completely rebrand the company, but this has a number of risks. A dramatic rebrand could erase your history in the mind of the consumer as well as any positive brand equity built up over the years. Plus, it could strain your budget as you revise not only your corporate stationery, but also your storefront, vehicle graphics, signage, marketing collateral, sales kits, website, packaging, and other elements of your public identity. For companies with multiple locations and complex sales and distribution channels, this imposes an even greater barrier.
An alternative to a full brand redesign is a brand refresh. With slight revisions to your branding elements and positioning, you can . . .
• Preserve your brand's existing equity
• Infuse new energy into your offerings
• Ensure your company stands out in a dynamic marketplace
• Expand the company's reach to new customers and create buzz among existing customers
• Reduce the sales cycle
• Phase in changes as your budget allows
Consider the major companies that have recently undertaken a brand refresh. Chiquita, Coca-Cola, and Starbucks, for example, already had very strong and recognizable logos that resonated positively with their customers, so why would they change? First, they evaluated their visual identity and messaging. Then they determined what still had value and should be retained and what should be refreshed to make the brand representative of who they are today and where they are going. The companies maintained the integrity of the existing logo, making modifications that are definitely noticeable but not too drastic. You might notice subtle changes in the width of a font; the sizing, scaling and placement of images; the shade of a color; or the tagline.
So how do you know if it's the right time for your company to refresh? If you're anticipating a change in management, introducing a new product or service, celebrating a significant business anniversary, or undergoing a merger with another company, it makes sense to consider a refresh. In the absence of any major event, consider a refresh every 3 to 5 years as part of your strategic planning process. A brand refresh should never be implemented simply because you're tired of the existing brand. Refreshing a brand is a strategic business decision with explicit business goals.
Ensuring that you are marketing your brand effectively and credibly is critical to both attracting and retaining a growing base of satisfied customers. A brand refresh will give your company that added flash that enables you to more effectively compete with other companies vying for the same market space without alienating or confusing your current customers.
Follow the lead of major companies. Maintain the integrity of your existing brand, making modifications that are noticeable but not too drastic.