All blogs
Response mailing made easy with Fold 'N Go®!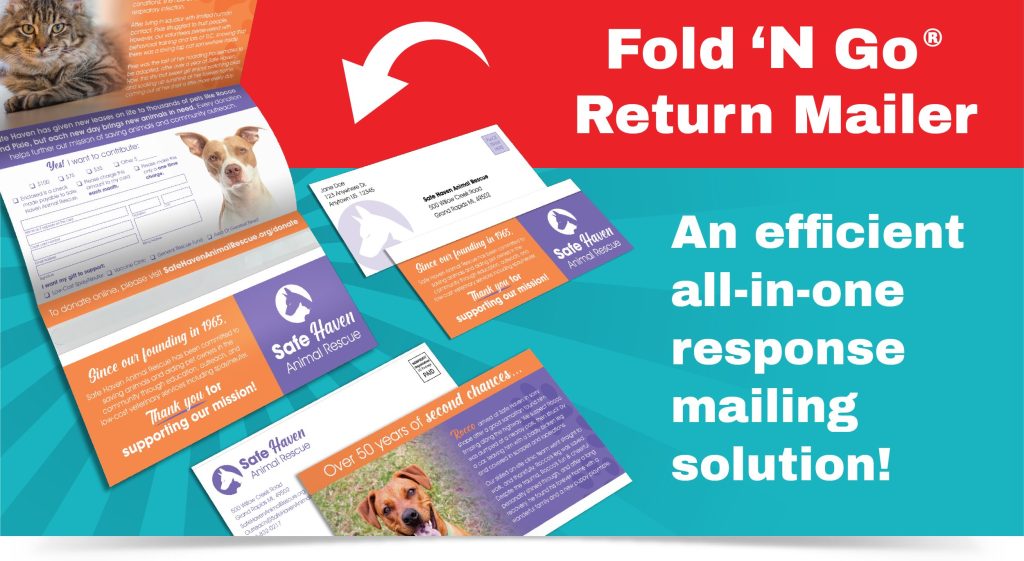 Between outer envelopes, return envelopes, and inserts, producing and fulfilling a response mailing package can be a headache. Wouldn't it be nice if all the moving parts of a response mailing job were condensed into one piece?
Enter, the Fold 'N Go® Return Mailer!
This innovative, all-in-one solution for response mailing is a folding self-mailer. It includes a perforated response panel and return envelope with Re-Moist adhesive built in! Utilize variable data on this digitally printable mailer to give it a personal touch that really speaks to the recipient.
Because this self-mailer is formed from a single sheet, there's no need for time-consuming hand fulfillment, and no risk of personalized envelopes and inserts being mixed up. And, it's easier to create a mailer that catches the eye! Fold 'N Go® Return Mailers offer more external design flexibility than a stock outer envelope, helping your piece stand out in the mailbox.
Whether you're a non-profit or charity seeking donations, or presenting a sweepstakes or registration/order form, Fold 'N Go® Return Mailers are an efficient solution!
New to Fold 'N Go®? Check out this brief introductory video, and request some free samples!