All blogs
Smart Ideas
Turning leads into customer relationships for life.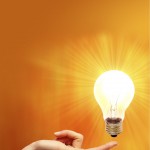 Once you bring in valuable customers through a prospecting campaign, it's easy to think you've accomplished your goal. But really, you've just gotten them in the door. Now what? How do you maintain that relationship so they stay engaged and continue to buy from you over time?
Once you've landed a customer, it's time to move into customer retention mode. This requires a plan. There are a number of ways personalized printing can play a key role in that plan.
Lots of companies send personalized newsletters or note-cards now and then. Many will send personalized reminders several days or weeks in advance of a product or service renewal, as well. Those are great ways to stay in touch with customers, but more and more companies are doing them. Here are five more unusual ideas that will help you to really stand out from your competitors.
1. Send a discount for no reason.
Everyone likes to be appreciated. Send a coupon with a discount on your customer's next purchase "just because." It will surprise them and foster goodwill.
2. Send reminders for someone else's special day.
Offer to collect important dates for birthdays, anniversaries, or other special occasions for your customers' loved ones, such as spouses, children, and parents. Send gift ideas with unique insight from your area of expertise and offer discounts on purchases. Everyone needs help with gift giving.
3. Encourage customers to sign up for sneak peeks and exclusive insights.
People like to be in the know. Encourage your customers to sign up for your newsletter, friend you on Facebook, or connect with you on Instagram or Pinterest. Give them insights into product development or offer them unique ways to use your products and services they might not have thought about. Experiment with "send your best idea" contests via social media to foster more engagement and get your customers talking about you.
4. Say "thank you" for loyalty and longevity.
If you know when your customer first began working with you, why not send a personalized thank you card and gift commensurate with the value of their business?
5. Ask their opinion.
Use personalized URLs or online surveys to ask customers' opinions about your company, your offerings, or bounce new product ideas off them. People like to do business with companies who care about what they think and that make them feel included.
The more you can engage your customers beyond the sale, the more you earn their goodwill and loyalty. So when it comes to customer communication, think beyond the initial purchase. Think about building a relationship for life.