All blogs
Sustainable Printing: The Elements™ Line of Papers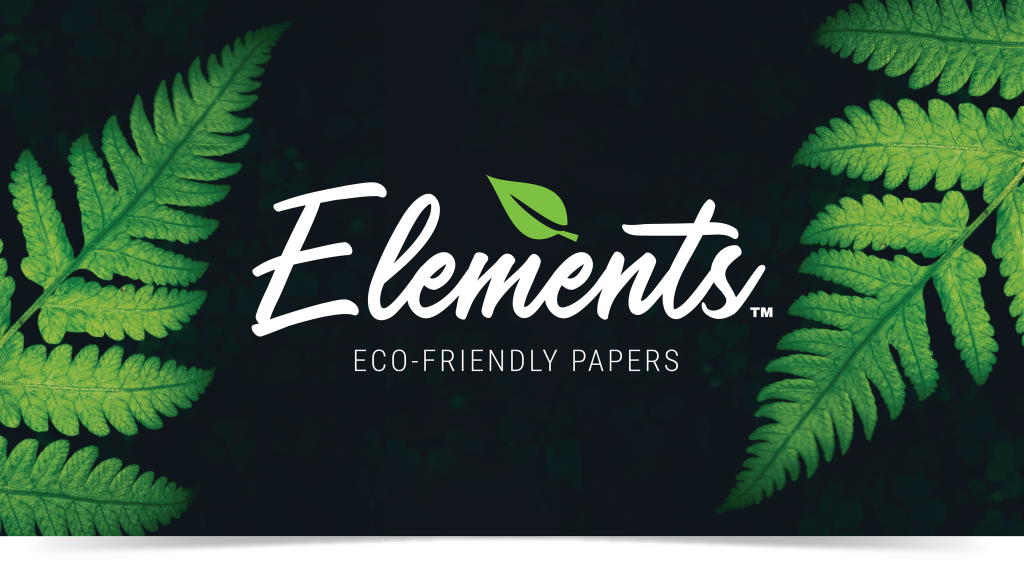 In recent years, concerns about sustainability are on the rise. More and more, customers are evaluating the eco-consciousness of the companies and brands they support. Sustainability messaging in direct mail has increased sharply in recent years, and brand credibility with increasingly eco-conscious consumers benefits from greener practices. Direct mail and print marketing channels are still effective and relevant, and for companies striving towards greener practices, there are ways to make their print marketing more eco-friendly!
In the pursuit of a more sustainable printing and direct mail industry, Convertible Solutions aims to reduce plastic waste and offer more eco-conscious products in the following ways:
By offering plastic-free alternative substrates for printed products that often utilize plastic, such as PVC gift cards or plastic laminated items
By offering responsibly sourced paper substrates
In keeping with these goals, Convertible Solutions is proud to offer our Elements™ line of papers, developed with sustainability in mind!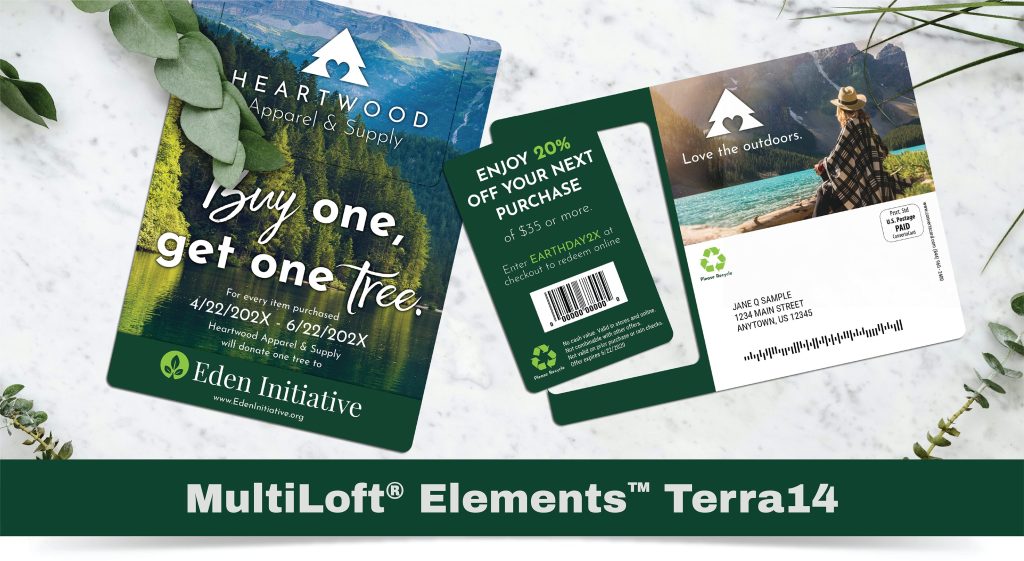 MultiLoft® Elements™ Terra14
Trying to cut single-use plastics out of your print marketing and collateral? MultiLoft® Elements™ Terra14 is already an industry-recognized plastic card replacement substrate!
Perfect for postcards, gift cards & other printed products which might otherwise use PVC or plastic lamination
100% plastic-free, 100% recyclable paper substrate
Ultra smooth, water-resistant surface
Smooth surface can be embellished with Foil, Spot UV and other special treatments
Create rigid cards up to 28pt thick, and easily combine with other MultiLoft® Sheets or Inserts for even thicker pieces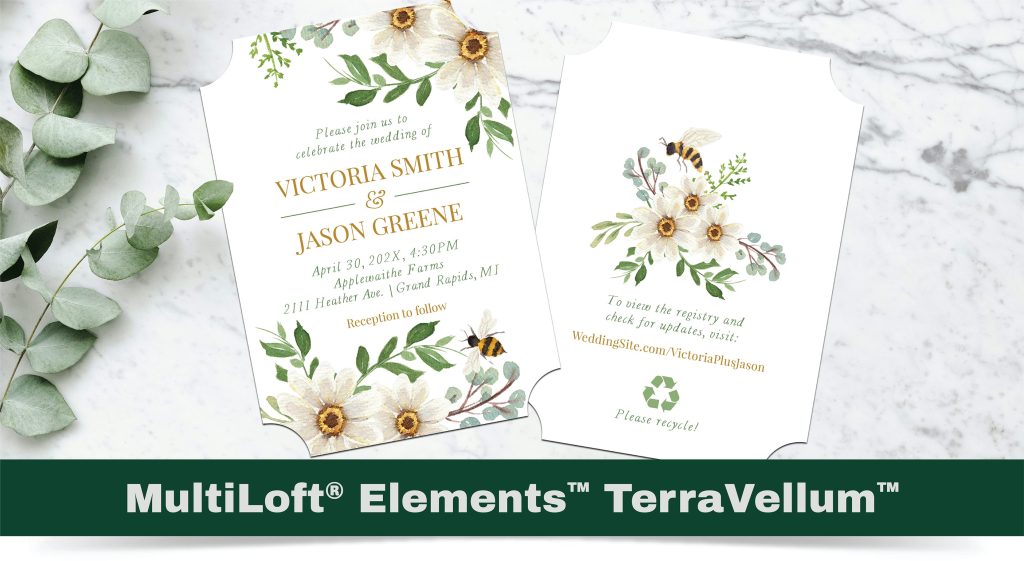 MultiLoft® Elements™ TerraVellum™
Recycled, post-consumer waste paper is a staple for sustainable printing. MultiLoft® Elements™ TerraVellum™ is a high-quality recycled paper option for postcards, business cards & more!
Manufactured with 100% recycled, post-consumer waste paper
100% recyclable
Textured vellum finish
Combine with any other products in the MultiLoft® family of products for an ultra-thick piece
But the best part about MultiLoft® Elements™ TerraVellum™? Convertible Solutions pledges to plant one tree for every carton sold!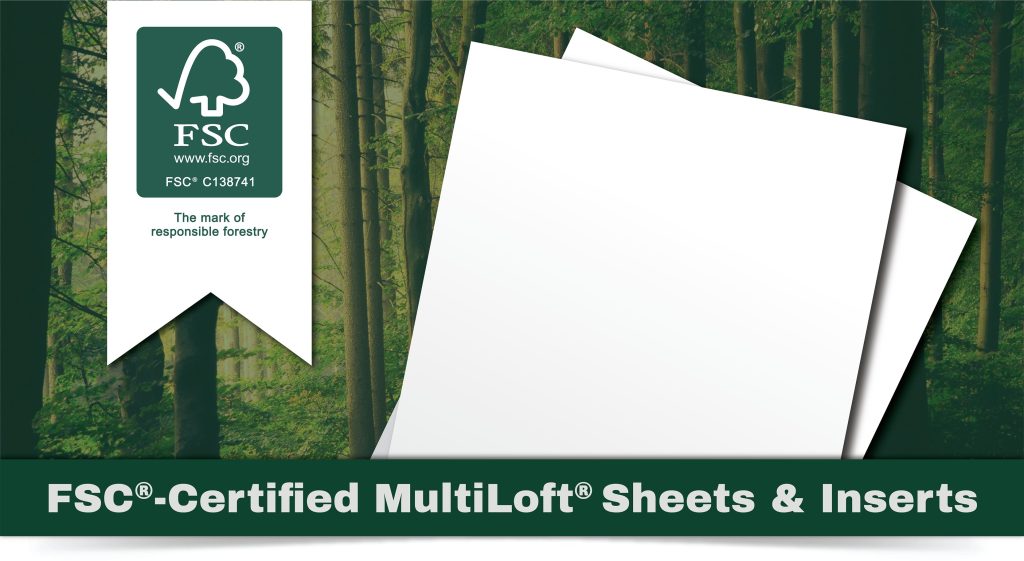 FSC®-Certified MultiLoft® Sheets & Inserts
FSC®-certified paper products are sourced from forest operations which meet strict criteria, including monitoring environmental impact of forest management and maintaining conservation values. The environmental and social responsibility required to achieve FSC® certification helps to preserve forest environments while still allowing us to benefit from forest products.
Convertible Solutions is pleased to offer several FSC®-certified MultiLoft® Sheet and Insert options! By choosing these papers, you are supporting responsible management of the world's forests.
Contact us for FREE samples of our Elements™ line of products, and let Convertible Solutions help you and your customers meet your sustainable printing goals!