All blogs
What's Your Print-to-Mobile Strategy?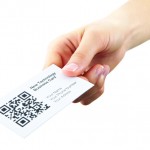 In today's world of print marketing, multi-channel communications are a critical component of success. Taking your marketing message across multiple channels helps you cut through the marketing clutter in your customers' lives and reinforce your message over time. If you aren't already, it's time to pay attention to mobile.
If you are not integrating mobile into your overall print marketing strategy, it's time to start. How can you begin to do that in a way that isn't overwhelming? The fastest and easiest way to integrate mobile into your print marketing is to use QR Codes. Adding these wildly popular mobile barcodes to your postcards, direct mail, marketing collateral, point-of-sale, and other print marketing materials allows you to offer instant access to online video, coupons, Web pages, and other mobile-web-driven content.
What's so powerful about QR Codes is that they allow viewers to respond to your call to action immediately by scanning the code with the camera on their phone. Once they do, they are taken immediately to the mobile Internet, where they can access any range of content. It's no wonder that more than 20% of U.S. consumers and more than 50% of smartphone owners are scanning these codes.
Here are some other things QR Codes can do:
 Launch pre-populated emails
 Add phone numbers and other contact information into mobile address books
Add scheduled events into phone calendars
Let's look at some recent data that shows just how important mobile has become in the lives of even print-loving consumers.
53% of U.S. Mobile phone owners use smartphones
33.3% of adults are now mobile-only. They have no landline in their homes at all
61% of consumers access the Internet via smartphone
80% of smartphone owners use their phones to shop
51.1% of mobile users check their email using only a mobile device
45.3% say they conduct mobile-only Internet searches
42.3% connect with friends mobile-only on Facebook
Today's consumers live on their mobile phones!
It's important to add mobile calls to action to your printed pieces, and QR Codes are the easiest way to do that. If you are looking for ideas for incorporating QR Codes into your print marketing, give us a call. You might be amazed by what QR Codes can do.
photography and illustrations ©iStock 2012.
Pew Internet & American Life Project November 2012
National Health CDC/NCHS National Health Survey 2011
Accenture 2012
ComScore MobiLens 2012
Prosper Mobile Insights 2012