All blogs
3 Direct Mail Trends in 2022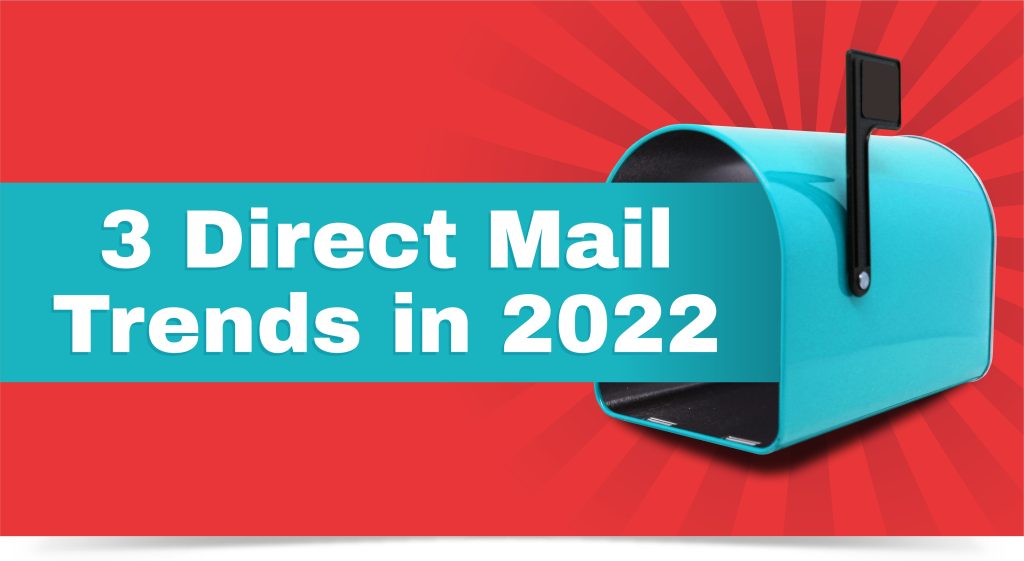 Direct mail is a tried and true marketing method, and even in an increasingly digital age, it outpaces digital channels in response rates. Combined with emerging technologies and increasingly refined data, direct mail can be even more effective.
If you're planning a direct mail strategy, consider these 3 direct mail trends in 2022 for your next mailing!
1. Postcards

Postcard usage has trended upwards in recent years, and now that 6×9 postcards are eligible for the First-Class Mail category through USPS, this trend is expected to hold. Postcards also blend nicely with an overall trend towards more concise marketing copy.
To make your postcard stand out, consider augmenting it with an interactive element. Removable perforated cards, scratch-offs, and other enhancements which prompt a recipient to physically engage with your postcard results in a deeper impression.
2. Encouraging Digital Interactions

Direct mail calls to action inviting consumers to interact with a brand through digital channels have increased greatly in the last decade, and this trend will presumably continue. Business Reply Mail has generally declined in favor of inviting customers to interact with any of a variety of digital channels, like websites and social media accounts. Here are a few ways to prompt responses through digital channels:
QR Codes: QR codes are a great alternative to a written web URL, allowing a customer to quickly scan and view your website, online catalog, online form, etc.
pURLs: Personalized URLs, or pURLs, direct a customer to a webpage that has been personalized for them. Longer pURLs can even be integrated with QR codes. As a bonus, pURLs make measuring responses and refining your mailings easier by individually tracking who is using their pURL.
Social Media: If your business has a presence on one or more popular social media platforms, such as Twitter or Instagram, encourage mail recipients to follow you and stay up to date on new products, sales, etc. If possible, include your username or handle to ensure they know exactly where to follow.
Apps: If your business is available as an app, encourage your recipients to download it. Be specific about where your app is available, whether through Google Play, the Apple App Store, etc.
3. Sustainable Mail

Consumers are increasingly eco-conscious, and a global study discovered that a majority of people surveyed would be willing to change their purchasing habits to reduce environmental impact. This shift towards prioritizing eco-friendly values is reflected by an increase in "green" messaging incorporated into direct mail. Phrases like "please recycle," "recycled paper," and other eco-friendly verbiage in direct mail have risen sharply in recent years.
Not only are sustainable practices ethical, but they can be beneficial to the perception of a business or brand. Consumers want to support eco-friendly companies, and by implementing greener practices and communicating your business' eco-friendly values in your marketing, your credibility is increased.
Here's some ideas on how to run a more sustainable direct mail campaign:
Choose your paper wisely. Using recycled paper, or papers certified as responsibly sourced through organizations like the Forest Stewardship Council® (FSC®), helps reduce waste and environmental impact. The Elements™ line of products from Convertible Solutions offers several eco-friendly paper options for direct mail and more!
Leverage data and monitor ROI to precisely target your direct mail. By refining your mailing lists and targeting the right consumers, you can achieve better results with fewer mailers and less waste.
Simplify your mailers. Rather than a multi-piece mailing package, try streamlining your message to fit on a postcard and save paper.
Remind recipients to recycle. Not only does this help divert paper from the landfill, but it demonstrates that you as a business or brand have sustainability in mind.
Convertible Solutions has substrates and products to help you stand out in the mailbox!
For FREE samples of Fold 'N Go® mailers, MultiLoft® cards, and eco-friendly Elements™ papers, contact Convertible Solutions!