All blogs
Convertible Solutions Launches Online Store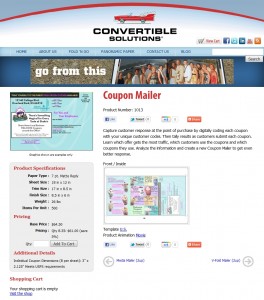 Pre-converted mailing specialist Convertible Solutions has launched a new online store to allow digital printers and imaging professionals direct access to order Mohawk Panoramic papers and Convertible Solutions' Fold 'N Go products 24 hours a day.

Mohawk Panoramic papers employ Convertible's TRU-Flat binding method where the paper sheets have been pre-converted with cohesives to simplify the creation of photo books. After printing, the pages are folded, stacked and pressed together to form a series of two-page spreads without a gutter or seam to interrupt the images. An additional printed Panoramic sheet can be wrapped around the book block to form a simple soft cover or the finished book block can be case bound.
The Panoramic TRU-Flat process is designed for photographers, architects, creative professionals, and those that want to deliver an exquisite visual impact. Designed to run on digital presses, the pages lay perfectly flat when the book is finished and deliver stunning digital photo reproduction without the traditional gutter running down the middle of the page. Artists, art galleries, museums, high-end product catalog designers will love the ability to lay out their pages without concern for images getting lost in the gutter.
The Convertible Solutions web store will also feature the new Double Thick Impact Cards which enable the printing of 24 point postcards on HP Indigo, Kodak Nexpress, Xerox iGen and other digital presses. The Double Thick Impact Cards are designed for photo studios, imaging labs, printers and direct marketing companies that want to combine variable data or short run printing with the tactile impact of an extremely thick postcard.
Convertible Solutions designed the Double Thick Impact Cards to run through standard digital presses. Each press sheet is 12 points thick with cohesives on the back and a score down the center. The graphics for both the front and back of the postcard are printed on the front of the press sheet. When folded at the score, the front and back of the postcard seal together to create an impressive 24 pt card. The sheet is designed to print easily in most digital presses and can be folded with a typical bindery folder.