All blogs
Digital Printing Boosts Direct Mail Effectiveness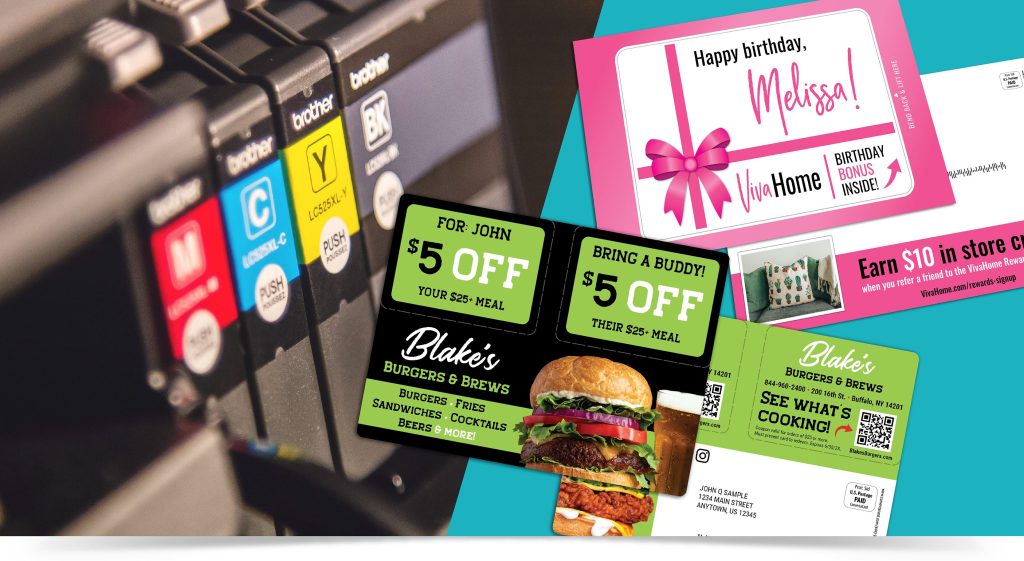 Since the advent of digital advertising, to the meteoric rise of online marketing, there have been many premature declarations that "print is dead." While it's true that direct mail volume is declining, direct mail marketing continues to beat digital mediums in response rates—in fact, direct mail response rates are increasing!
A PFL survey discovered that when direct mail is incorporated into an omnichannel marketing strategy, it boosts campaign performance by 63%. This effectiveness is heightened further when the direct mail portion of the campaign is personalized and utilizes quality consumer data—and digital printing makes this possible.
Digital printing allows for greater personalization
One key factor that sets digital printing apart from traditional commercial offset printing is variable data capability. Rather than using printing plates which remain static through an entire print run, digital printing does not rely on plates, and certain software can be used to create artwork which varies across a digital print run.
Common applications of variable data include using the recipient's name in direct mail copy, which can increase response rates by up to 135%! However, variable data can also be used for unique barcodes and promo codes, personalized URLs/QR codes, and can even be used to completely vary the entire design of the direct mail piece!
This flexibility and ability to personalize through digitally printed direct mail makes it easier to tailor your message to your customer, and individually track responses to your campaign to assess its effectiveness.
Digital printing is fast & cost effective for targeted, lower volume production
With evolutions in data, direct mail has been trending towards highly targeted, lower volume mailings. Rather than the broad, unfocused mass mailings of the past, many mailings now rely on smaller, more refined prospect lists which leverage consumer data to more accurately target potential customers. This specificity increases overall ROI and reduces material cost and waste.
Digital printing involves much less setup than analog printing processes, making it much faster and more cost-effective for these lower volume, targeted mailings.
Digitally printed direct mail can leverage ecommerce data for greater effectiveness
The faster, lower volume, personalized and data-driven direct mail made possible by digital printing dovetails neatly with the rise in ecommerce. In 2020 alone, ecommerce sales jumped from 16% to 19%. Ecommerce offers online retailers a variety of tools to track their digital storefront's analytics, and consumer data such as shopping history, abandoned carts, and other online habits can be used to create more personalized, relevant direct mail with greater response rates.
With automated direct mail, it's even possible to automatically trigger a mailing based on certain consumer behaviors online. For example, if a person browses an online store and then abandons a cart, a postcard could be automatically created and sent with a promotion based on the items the shopper was interested in. The speed and variable data capabilities of digital printing make all of this possible!
Print and Direct Mail Aren't Dead: They're Evolving
Many instinctively pit direct mail against newer digital marketing channels, but in reality, omnichannel marketing which includes direct mail is highly effective—and digital printing is the key. Digital printing combines the proven effectiveness of direct mail with consumer data to create more laser-focused, effective campaigns. Direct mail offers a physical touchpoint which can cut through oversaturated digital marketing and guide new prospects or returning customers to your website.
Direct Mail Products from Convertible Solutions
Convertible Solutions offers a variety of unique substrates and products engineered specifically for the digital printing industry. Contact us for more information and FREE samples!