All blogs
Five Steps to Maximizing Your Print Investment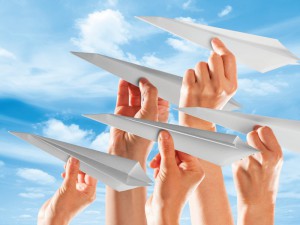 We love print. We're experts at it! But we also know that in addition to being tangible, credible, and attractive, print must be efficient and cost-effective to make it fly. That's why we want to help you get the most out of it. When evaluating the options for your next project, here are some things to keep in mind.
Warehousing
If you are printing longer runs to keep down your per-piece cost, make sure you know what it costs to warehouse those documents. Storage isn't free. Even if you are storing your documents on-site, that physical space has costs of its own, including heating and cooling, utilities and insurance, and staffing. The true cost of stored documents includes the printing + the warehousing cost.
Sometimes storing longer print runs is still the most cost-effective option. Other times, you can save by printing shorter runs or running JIT production. Which is most cost-effective for you? Let us work up the numbers!
Obsolescence
Do regulations, pricing, or product descriptions regularly change in your marketing materials or print collateral? How about names, phone numbers, or email addresses on business cards, internal forms, and other documents? If you are tossing inventory every time there is a change, your per-piece cost may be higher than you think it is. If you have moderate to high document churn, printing on demand using digital or small-format offset may save you money in the long run.
Cost savings from 100% white paper production
Are you preprinting offset rolls, then overprinting with black-and-white or variable information? With today's new digital technologies, some marketers are finding that for the right jobs, 100% "white sheet" production (in which every piece is printed on demand) can be more cost-effective, even when printing in full color.
Errors, reprints and duplication
How is your printing ordered? Is it being funneled througha single person or department? Or are multiple people placing orders within your company? How are you ensuring against duplication, ordering errors (such as ordering materials that are outdated or have unapproved changes), or other factors that can increase your costs? Centrally managing your print documents may save you money.
Return on investment
Could your marketing materials bring you greater return on investment if they were targeted or segmented? You may get the lowest per-piece cost by printing long static runs, but if you are not taking advantage of opportunities to increase revenues, you're leaving money on the table.
Want to maximize your production cost and efficiency? Let us look at your print and document workflow from soup to nuts. There may be simple changes that can make a huge difference.