All blogs
Get a Sales Lift!
Cross-selling to current customers builds relationships and increases profits.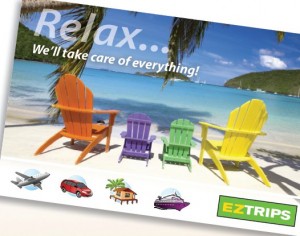 It is a well-known marketing adage that it's easier and less expensive to sell more products to customers you have than to try to acquire new customers. One of the ways you can do this in your print marketing is to cross-sell.
Cross-selling (or selling the customer products that are complementary to those they already own) can be highly profitable because it deepens the customer relationship. It also gives you a host of additional products to upsell the customer over time.
Here are some tips for best results.
1. Know your customers.
There is no sense trying to sell your customers products they already own or ancillary products for those they do not. If you track sales history, tap into that. If not, try using PURL postcards to gather basic data about what your customers have already purchased.
2. Know when they buy.
When are your customers most likely to make a purchase? Time of year? Time of day? Stage of the sales cycle? They will be most receptive during these times.
A study conducted on the airline industry*, for example, found that in 2010, 64% of customers were "likely" or "somewhat likely" to purchase ancillary products while booking the trip (as opposed to after booking but prior to check-in, during the check-in process, or during the trip stay). By 2015, this is forecast to rise to 78%. This type of information can be very helpful to travel agents in planning mailings and marketing collateral. For example, they might want to reprint point of sale or collateral materials to include ancillary services upfront—presenting them at the time of booking—rather than waiting to try to market them later.
3. Know where they buy.
Where are your customers most likely to make a purchase? From you directly? From a reseller? How about an online retailer? Do your marketing materials reflect their full range of purchase options? How about the way customers purchase? Do they prefer making purchases by phone? In person? Through their mobile phones? Find out their communication and channel preferences, then use those preferences to communicate on your customers' terms in the way that they will be most receptive.
Studies have shown that the majority of most companies' business comes from customers they already have. Cross-selling is an important way that marketers can do just that.
*Cross-Sell Your Way to Profit (Forrester Consulting 2011, commissioned by Amadeus)