All blogs
Use Web-to-Print to Save Time and Money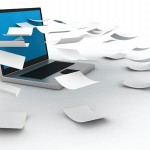 Looking for ways to reduce waste and make your print ordering more efficient? How about ways to reduce inventory? Better manage your brand? Today's online print ordering systems do all of these things without costing you a dime.
These systems go by many names: Web-to-print, Web commerce, e-commerce, print commerce, and many more. No matter what you call them, these powerful tools serve as online repositories of your print documents that allow you to login and order what you want, when you want. Many also offer templates that enable you to design and proof documents online. This saves you money in design costs.
Let's look at how this works.
You upload your print documents into a password-protected area of a Web-to-print site. When you want to order documents, you login, select the document(s) you want, and place the order through the site with a credit card. You can order anytime, in any quantity, and don't need to order more inventory than you actually need.
Because you don't maintain excess inventory, if you change your phone number, add a new product, or shoot a new photo, you don't end up with a lot of waste. This frees you to update your materials at any time. Especially for companies with high volumes of forms, brochures, business cards, or other documents that change frequently, this can save significant amounts of money.
If you use design templates offered in a Web-to-print system, you can save time and money on design costs, as well. You simply log in, select the template you wish to use, add your copy and images, and view your new document in live preview. You can change images or text as often as you like, tweaking until the document looks just as you want it to, without paying a designer or a customer service rep for alterations.
Web-to-print allows you to manage your brand too. By allowing users to select only from a pre-approved list of images, graphics, and text, you can ensure that only the most recent content is being used (say good-bye to incorrect phone numbers or outdated promotional offers). If you make a change, once you update your template or the options available in your content repository, that change will be reflected on every piece that gets ordered from then on. No more mistakes!
You do direct mailings right from your online system, as well. Simply upload your mailing list and launch your campaigns right from your chair. If you want to personalize your mailing by name, industry vertical, or other variable, you can do that too. Just use the drop-down menus provided on the website and design your own personalized documents.
This is only the beginning of the benefits of using Web-to-print for managing your printed documents. You save money, save time, reduce print errors, slash waste, and maintain much tighter control of your brand. What could be better than that?