All blogs
Using QR Codes to Bridge the Gap to Video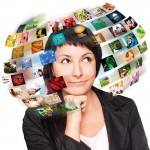 If you want to catch someone's eye, use video. But how do you follow this principle in print? Use QR Codes.
Video is the darling of marketing, and for good reason. Video content is engaging, exciting, and memorable. It is also highly relatable. People can connect with video in a way they can't with other media. Think YouTube and Vine.
What types of videos make sense for integration with print?
Start with packaging and catalogs. While in the retail aisle or flipping pages, the consumer scans a QR Code of the package, print ad, or point-of-purchase display and is connected directly to a video containing product demonstrations and consumer reviews. Nothing says, "Buy me!" like a customer raving about a product. Or reduce tech support and customer service expenses by using QR Codes to connect customers to "how to," troubleshooting, and installation videos.
The "show, don't tell" principal applies to fundraising too. Nonprofits are pointing QR Codes to videos showing donors how their donations are being spent. Samaritan's Purse has done a great job of adding QR Codes on the outside of its mailing envelopes to share videos not only with donors but also with anyone who comes into contact with the envelope.
There are all sorts of creative applications. Australia Post is urging gift senders to shoot a 15-second video of themselves speaking to the recipient, which can be viewed via a QR Code on the package. You can imagine creative applications for holiday and other gift cards, as well.
What will your creative application be?