All blogs
Lessons Learned At CES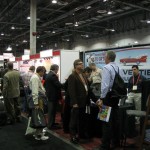 When most people go to Las Vegas, it's typically not for work. Unless CES is in town. We told you a few weeks ago why we believe attending conferences like this are incredibly important for any business, now we want to tell you how we've harnessed the power of CES to benefit Convertible Solutions.
Events like CES are important because we get to see our customers and potential customers face to face and learn more about them and the ways they use our products. Demonstrating how our equipment works and showing potential customers techniques that might not be apparent in our online videos is incredibly valuable to us. It is also a time when we can explore other needs that our customers might have and find ideas for new innovations. All of this is possible without talking to people face to face, but it makes a much bigger impact if we are in front of them.
Many of the people we're meeting at CES this week are folks we've never met before, which is why our social media presence is so important. When we meet people for the first time at CES, we will encourgage them to continue the conversation through our Facebook page, Twitter feeds and the news articles and blog posts on our website. We also believe strongly in the power of direct mail, so we offer to include people in future mailings on new product samples and announcements.
Every photo retailer is looking for ways to differentiate their products and marketing from all of the other retailers. We are seeing a great deal of excitement about the ways they can use our Panoramic books and Double Thick card products to stand out from the crowd. The main lesson to be learned? Opportunities are gained by meeting your potential customers face to face. Even in this new age of Google+ hangouts and Skype, talking with someone face to face and shaking their hand is STILL the best way to win a new customer.
We leave you with a couple of lists of fun facts about CES. Vegas, baby. Vegas.