All blogs
Does Direct Mail Fundraising Work?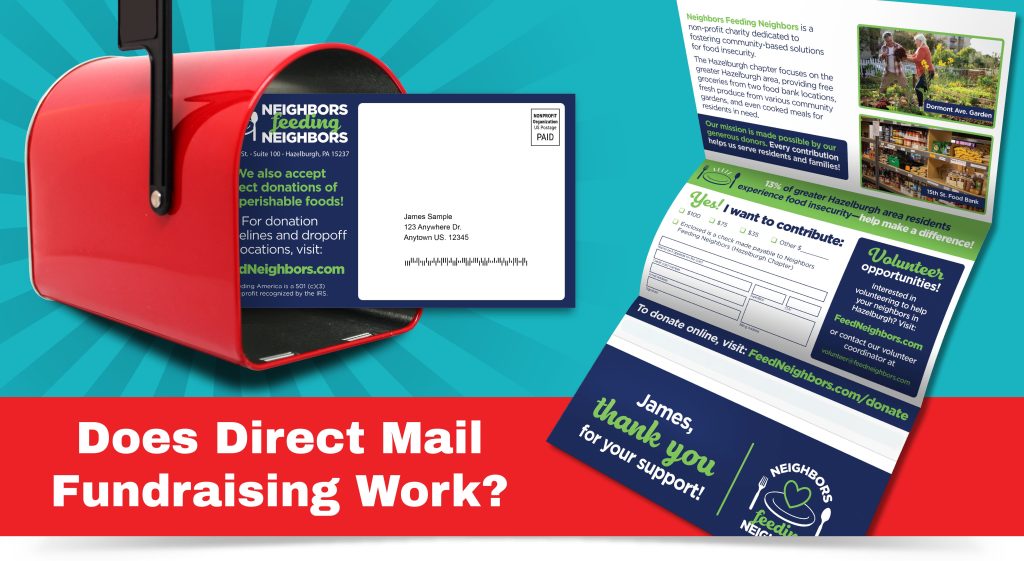 For nonprofits, using their marketing budget thoughtfully is critical. Direct mail has more overhead than email and some other digital marketing channels, so many organizations may hesitate and wonder, does direct mail fundraising work? Is it worth the investment?
The short answer: yes. Blog post over! (Just kidding.) Even in a digital age, direct mail remains a highly effective marketing medium. Let's break down the ways that direct mail fundraising is a smart choice for non-profits:
Direct Mail…
…Has Higher Response Rates
Even as technology marches on, direct mail continues to dominate digital channels in response rates. Compared to emails alone, which average around a 1% response rate, direct mail fundraising sees between 5-9% response rates. When direct mail is combined with digital channels, this rate jumps up to 28%. Rather than pitting direct mail and digital channels against one another, consider direct mail as an important asset to any omnichannel or multichannel fundraising strategy.
…Is More Personal
Establishing a connection with a potential donor is a key part of getting them invested in your cause, and 70% of consumers indicate feeling that direct mail is more personal than an email or other online interaction. Digital printing technology also makes personalizing direct mail easy! Including a recipient's name in a direct mail piece is estimated to increase responsiveness by 135%, and with variable data printing, it's easy to include a person's name or other individual details in your direct mail fundraising piece. For recurrent donors, you can even incorporate data from their donor history into the direct mail piece to acknowledge their individual past contributions.
…Is More Trustworthy
The online landscape is rife with scams, phishing, and other cybersecurity risks. Consequently, most internet users think twice before clicking links or trusting unfamiliar online entities with their payment information, and unfortunately, a lot of legitimate offers get caught up in that skepticism. On the other hand, print advertising and direct mail are trusted substantially more by consumers than emails, sponsored posts, and other online marketing channels. The exact reason is unclear, but is likely a combination of generally greater trust in traditional advertising mediums, and the aforementioned cybersecurity risks associated with digital marketing being absent in mail.
As a non-profit, you are not only asking your donors to believe in your mission, but trust that their data and payment information are safe with your organization. Direct mail outreach, which is trusted by a majority of consumers, can help establish your credibility.
…Is Less Competitive
With the explosion of digital marketing and electronic engagement accelerated by the pandemic, digital channels have become increasingly oversaturated with brands and entities clamoring to be heard over the competition. The result is a broad sense of 'digital fatigue' among consumers. A 2021 study by SG360° discovered that a whopping 75% of consumers report feeling overwhelmed by the number of digital ads. Direct mail can cut through this noise, as the comparatively lower mail volumes and the physical act of retrieving and sorting mail mean your message is more likely to be seen.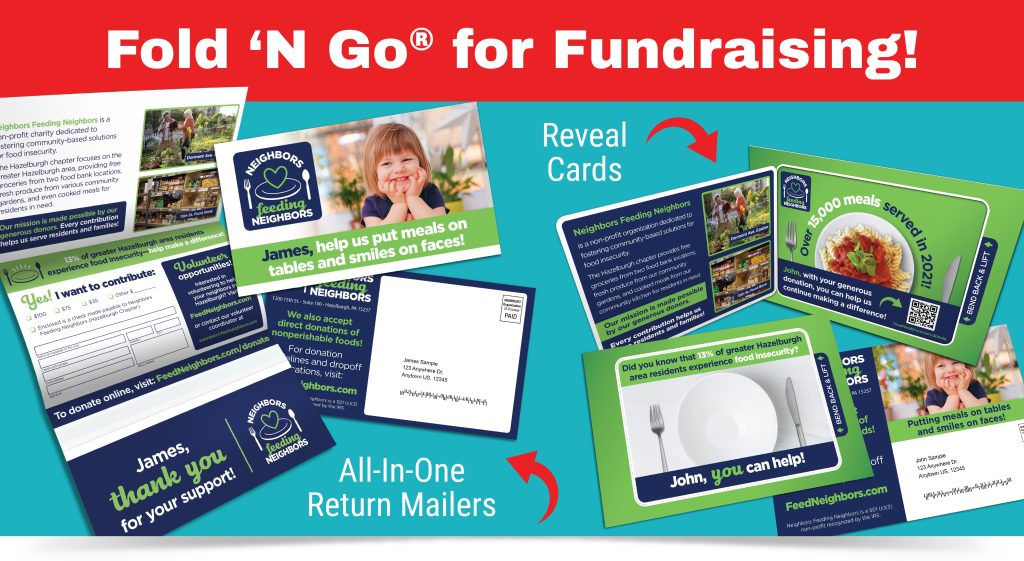 Unique Direct Mail Products from Convertible Solutions!
Convertible Solutions offers a variety of substrates and specialty mailers for print marketing and direct mail. Our Fold 'N Go® mailers are engineered for a streamlined production process and end result that can help nonprofits stand out in the mailbox!
The Fold 'N Go® Return Mailer includes a detachable response page and ready-to-seal return envelope combined into one contained self-mailer. Thanks to the all-in-one design, the production process of this mailer is streamlined, requiring less paper and no extra envelopes compared to a traditional fundraising mailing package. Learn more, and request FREE samples!
These unique postcards include a perforated reveal panel, increasing the available design real-estate of a typical postcard and adding an element of suspense! An interactive mailer is a great way to help your message stand out from a typical flat postcard. Learn more, and request FREE samples!